15 Best Black Friday 2017 Deals We Wouldn't Be Caught Dead Missing
Featured 11/18/2017 in
ftw
Black Friday 2017 is just around the corner. If you're looking to make some key purchases, chances are you're overwhelmed by the hundreds of ads. We're going to simplify that for you by only highlighting the best of the best.
Below are 15 eBaum's World approved Black Friday deals.
$249.99 at Costco
This gaming monitor is a great deal for anyone who ever uses their PC for gaming. With 1440p resolution support and 75hz, along with outstanding panel quality, it is a great pick-up for your eBaum's browsing experience.
$179.99 at Best Buy
When it comes to TV deals, this 50" 4K TV is an absolute killer. We honestly have no idea how Sharp is making money off this.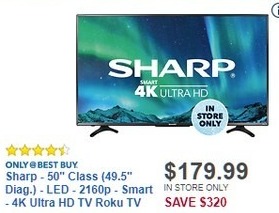 $599.99 at most retailers
If you want something a little bigger for your living room, this 60" Sony TV is an outstanding choice that offers unparalleled meme watching experiences in the price range.


$179.99 at Dell and Amazon
Bose and Beats have the biggest price drops on headphones this Black Friday. This particular set is one of the best sellers in the $200 to $300 price range, making it a recommended option.
$237.99 at Newegg
Tired of waiting for your PC to load so you can visit eBaum's World? This SSD will do the trick. And it'll store your entire piracy collection no problem.
$899.99 at Newegg
When it comes to being able to play Wolfenstein II: The New Colossus at High settings and allowing you to watch YouTube on the go, it doesn't get much better than this normally $1050+ laptop.
$99.99 at Kohl's
You probably don't exercise, but if you want to look like you do, a Fitbit is a great option.
$349.99 from Amazon
GoPro cameras are pretty expensive. Amazon is looking to help you out so you can record yourself falling down a mountain while skiing this season.
$29 at most retailers
Normally $50, this smart speaker will make you feel like you're in an episode of Star Trek.
$1.2 Million at Hennessey Special Vehicles
Please buy one and then invite us over for a drive. Thanks.
$27.99 at Amazon
You can never get too many LEGOs. Take a break from commenting hate messages on our articles to build yourself a little castle. Enjoy.
$199.99 at Kohl's
The PS4 is more than 50% less expensive than when it came out in 2013. That's pretty amazing. Greatness awaits.
$14.99 at Shut Up And Take My Money
There's no way you're going to be able to bear being around your in-laws for more than an hour without some booze. Hide it in this stocking and take it down like a champ whenever you need a break from all the questions about your job situation.
$22.95 at Ugly Christmas Sweater
This great conversation starter is a great way to make you stand out in a Christmas party crowd. Seriously, who doesn't like Teenage Mutant Ninja Turtles?
$189.99 at Target
If you're more of an Xbox guy than PlayStation, this deal is practically a steal. it's basically $160 when you consider you get a gift card. GG.